July 25-28, 2020
Peppermill Resort
2707 S. Virginia Street
Reno, Nevada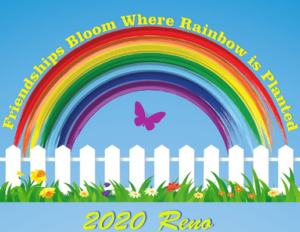 Supreme Assembly Registration
Please use the on-line registration; the link is https://cvent.me/0llOg1 .  If the link does not work, you may find it on the gorainbow.org website under the Supreme Assembly tab.
NO GIRL IS TO REGISTER ALONE. GIRLS MUST REGISTER THROUGH A CHAPERONE!
All roommates should register together.
Once you have completed your on-line registration, please send an email to CAIORGtours@gmail.com with the name; Girl or Adult status; assembly, majority, parent, or sponsor status of each person.
Please also indicate who is a certified chaperone, if they are needed.
The sending email address will be assumed to be the contact address for the group.  If that is not correct, please send that information as well.
Once you have registered, there will be more California paperwork: permission slips, conduct forms, medical information, shirt orders, etc.
DEADLINE:  June 1, 2020
Because of coordination with the Supreme Assembly organizers, the California deadline is a couple of weeks before the published deadline.  Please respect what needs to happen here, and register and notify 
CAIORGtours@gmail.com
 of your registration by June 1, 2020.
If you have any questions, please do not hesitate to contact me at the Tour Office email: 
CAIORGtours@gmail.com